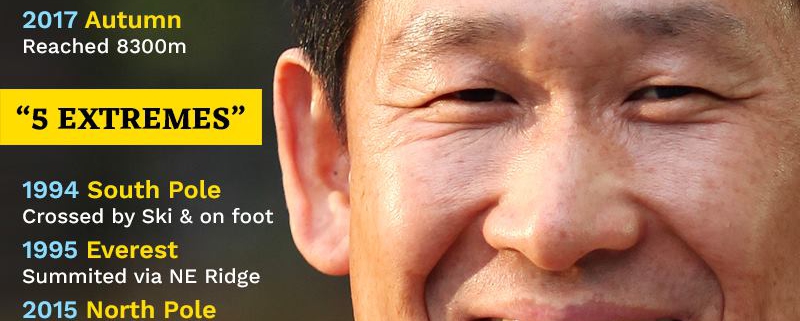 || Meet Hong Sung Taek, who came to Nepal to attempt Lhotse South Face, for the sixth time ||
News Link: https://bit.ly/2VzzL5j
South Korean mountaineer, explorer and adventurer Sung Taek Hong (53) once again came to Nepal to climb Lhotse South Face for the sixth time. The South Face of Lhotse is considered to be one of the toughest climbs of the world. The South Face of Lhotse is challenging because of the presence of a vertical wall of height 3300m (11000 feet) with frequent snowfall, rockfall, avalanches and severe winds.
In 1999, Hong first attempted to summit the mountain via South Face but failed. Since then he has attempted four more times but was unable to make it to the top. In the Autumn of 2017, he reached the highest point among his five attempts via this route ie. 8300m.
He is renowned for his "5 Extremes" expeditions, where he crossed the South Pole by Ski and on foot in 1994, Summited Everest in 1995, crossed the North Pole on foot in 2005, crossed Greenland by Dog sled in 2011 and crossed Bering Strait on foot from Russia to Alaska (Uelen, Chukotsky Dist. to Wales, Alaska) in 2012.
His Lhotse South Face Attempt *
1. 1999 Autumn, reached 7700m
2. 2007 Spring
3. 2014 Autumn, reached 7900m
4. 2015 Autumn, reached 8200m
5. 2017 Autumn, reached 8300m
* There is a mismatch in information regarding the year of Hong's 2nd and 3rd attempts. We have taken information from The Himalayan Database and NatGeo website. Though the old website of Hong had the exact match with the above information, his current website stated his 2nd attempt was in Autumn 2008 and there is no information regarding his 3rd attempt (Autumn 2014). According to The Himalayan Database, in Autumn 2008 and 2013 he attempted Lhotse via West Face.
Photo Courtesy: Wikipedia
Hong's Website Link: https://bit.ly/2P7YrPO
NatGeo Website Link: https://bit.ly/2VGxLrK
https://hongs-expedition.com/wp-content/uploads/2020/02/56786172_2275248405862666_5052904985088491520_o.jpg
1196
800
Hong's Expedition
https://hongs-expedition.com/wp-content/uploads/2018/10/HONGS-EXPEDITION-홈피-상단-로고-여백-300x169.png
Hong's Expedition
2019-04-07 22:14:56
2020-03-29 01:13:09
Meet Hong Sung Taek, who came to Nepal to attempt Lhotse South Face, for the sixth time